Moving on from the previous categories, this one is coming right from the Spirit of Speyside festival as it was released to celebrate it. It sits in the "Deep, rich and dried fruits" expressions for SMWS which I also tend to appreciate, and it's obviously a PX, 2nd fill. As to the origin, it's a 21 years old Glenrothes, continuing then with the spring cleaning of old barrels!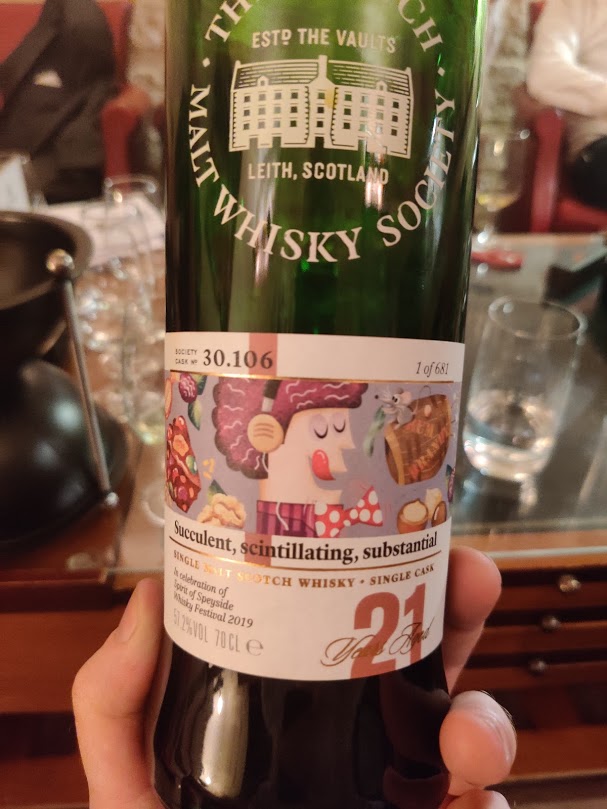 Nose
Quite surprisingly for this kind of dram, I had first nail polish on the nose. I put that on too many drams by then. After that, I got the usual PX expressions for me which is to say nutmeg, cinnamon, and the like. There was some sort of vinous/sherry-like quality at the bottom.
With water, apricot comes on and the nail polish fades in the background – which I preferred!
Palate
The palate was everything you expect from a PX – nutmeg, vinous, some sundried apricot, nuts and dates. I did feel a bit of lemon, and orange which gave it a refreshing side, and I did appreciate it.
Finish
A medium-long finish stayed on orange and let the oak come through.
Comments
A bit weak for me, even though adding water let it develop other things. Not sure about the citrus side of things – it was good but the link with the PX finish was peculiar.
Rating: 85/100